Natural Resource Maps for Greene County
Having accurate and easily accessible information is important for making good decisions. GLT is working with Hudsonia, Cornell Cooperative Extension and the Greene County Conservation Leader's Alliance to provide maps showing a wide range of natural resources for Greene County.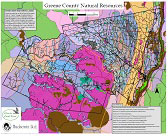 These maps are now all available as a layered pdf file so you can click to show or not show anything from agricultural soils and wetlands to historic and cultural resources. To get started exploring these maps you need to open the file (click here) and save to to your computer. You can view it using Adobe Reader or Acrobat or any other PDF reader.  
Then, locate the menu bar on the left side of the screen. Click on the "layers" icon (it looks like 2-3 stacked sheets of paper) to view layers or to show or hide their contents. If the "layers" icon is not visible, click on the "View" drop-down menu near the top of your screen. Choose "Navigation Panels" and then "Layers" and the Layers menu will appear to the left of your map.
Click the "expand" (+) icon to the left of the "layers" folder to show the major layer names. Click the "+" next to the layer folders to see an expanded list of contents for each. Now turn each layer on or off by clicking on the "eye" icon (or on the empty square) to the left of each layer or folder.
You will also want to open and save (or print) the map key – click here. Have fun.