The Greene Land Trust is dedicated to helping to protect the many places that make Greene County such a special place. Scenic vistas that inspired the Hudson River school of painters, agricultural lands that are an important part of our heritage; mountains and valleys that have attracted visitors for generations, habitat for an abundance of wild things and open spaces that offer recreation opportunities for us and future generation; all of these deserve our care and our concern.
Why Protecting Land is Important
For many of us, saving the places that enrich our lives is reason enough to support conservation. But much more is at stake. Ensuring that our natural areas are preserved is critical to the quality of the air we breathe, the water we drink, and the food we eat.
For the landowner, permanent land protection, such as conservation easements, can be desirable for many reasons including protecting the land's agricultural value or productivity, ensuring that family lands remain intact for future generations, reducing estate taxes, and helping to balance open space and development in their communities.
Community Economic Benefits of Protecting Land
There are documented local economic benefits of conserving and managing open space. A Cost of Services Analysis for Coxsackie completed in 2007 revealed that open space required $0.20 in service for every $1.00 paid in taxes. In contrast, residential land use costs $1.23 in the Town and $1.28 in the Village of Coxsackie for every $1.00 of tax collected from these properties. Further local economic benefits of open spaces are realized as outdoor recreation expenditures, including those associated with hiking and bird watching, which continue to be an important part of what brings visitors to Greene County. In addition, the community receives "environmental services" from open spaces. These services include the natural protection of water quality and the increase of storm water infiltration by vegetation, thereby reducing the threat of downstream flooding and thus reducing costs associated with mitigating these problems.
How the Greene Land Trust Works to Protect Land
The Trust works with public and private landowners to protect natural and related cultural resources for future generations using a variety of tools and incentives.
A conservation easement is an agreement between a land owner and a land trust or government agency. The easement permanently restricts the uses of the land in order to protect its conservation values. For that reason a conservation easement is sometimes called a conservation restriction.
With a conservation easement you continue to own and use your land. You can sell it or pass it on to heirs. However, the restrictions that were agreed to in the Conservation Easement are binding on all future owners. The land trust is responsible for making sure that the terms of the easement are upheld.
Under certain circumstances, donating an easement may result in a federal income tax deduction. In New York State it might also qualify for an State income tax credit.  More information about conservation easements is available from the Land Trust Alliance, an organization representing more than 1600 land trusts. More About Conservation Easements.
Other Methods for Land Protection
Donation of land for conservation
If you choose to donate your land, the Greene Land Trust will work with you to identify the best arrangement.  The Greene Land Trust might retain ownership of the property as a permanent preserve (if it is certain that the Greene Land Trust has the financial resources to provide stewardship of the property) or the Greene Land Trust may transfer the property to a suitable owner, such as a government agency.  The full market value of land donated to a nonprofit land trust is tax deductible as a charitable gift.
Bargain sale of land
In a bargain sale, the landowner sells land to a land trust for less than its fair market value.  This not only makes the land more affordable for the land trust, but also provides cash to the landowner, avoids some capital gains taxes, and entitles the landowner to a charitable income tax deduction based on the difference between the land's fair market value and its sale price.
Resale of land
If you need to sell your land, but don't want to see it altered by development, you can work with the Land Trust to place a conservation easement on the land before it goes on the market.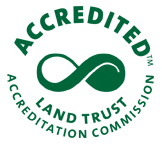 Further Information on Land Protection Across the Country
Click here to visit the Land Trust Alliance

, a national non-profit representative of over 1,600 land trusts nationwide, for more information about other conservation methods, fact sheets and other useful publications.  The Greene Land Trust is a member of the Land Trust Alliance.