The Octaparagon Wildlife Refuge
The Octaparagon Wildlife Refuge is a 62.7 acre conservation easement granted by the property owner, John Crist. The property is located in the Town of Coxsackie at 1819 High Hill Road, northwest of Potic Mountain Road, both sides of Potic Creek Road, south of County Route 81. 
The property includes the confluence of the Grapeville and Potic creeks and significant wetland complexes with beaver activity. Most of the property is either wetlands or forested with northern hardwood and some coniferous forest. The land contains extensive wetlands, forests and beautiful stone walls.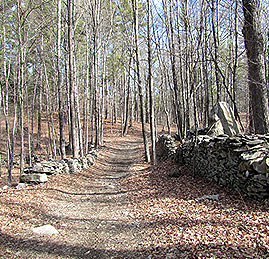 Visiting the Octaparagon Wildlife Refuge
Public access to the trails and recreational areas on the property is allowed and encouraged by the current owner. The parcel has frontage on Potic Creek Road with a small parking area to the west of Potic Creek Road and a trailhead across the road to the east.