Coxsackie Creek Grassland Preserve
The 400+ acre Coxsackie Creek Grassland Preserve, located in Coxsackie, was the Greene Land Trust's very first project and remains our largest property now including four separate parcels (marked by four red stars). There are no trails, but birdwatching is popular at CCGP. The land is owned and managed by the Greene Land Trust through a long-term dedicated fund.
In both the summer and winter months, NYS threatened and endangered grassland birds, as well as grassland birds of special concern, can be found on these grasslands. Short-eared Owls, Northern Harriers, Bobolinks, Grasshopper Sparrows and Eastern Meadowlarks hunt for food and/or make their nests in the grasslands.  The Preserve, although predominately grasslands also contains important woodlands and wetland areas, as well as a beautiful stretch of the Coxsackie Creek – a tributary of the Hudson River.
Download the Coxsackie Creek Grassland Preserve Brochure (PDF)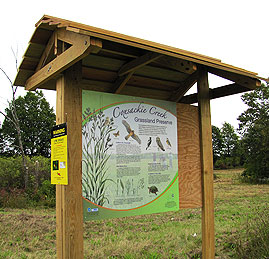 Visiting the Coxsackie Greenlands
Currently, public access to the Preserve is only at viewing points in various locations around the Preserve's perimeter. Most of the land, some 290 acres, is located north of State Route 385, east of US Route 9W and west of County Route 61 in the area of the Greene Business and Technology Park and the Kalkberg Commerce Park. In addition, the Preserve includes a 30-acre parcel that is located west of Warren Avenue and north of NYS State Route 81.
Other parcels are located on CR49 and along Stacey Road.  Access is available from River Road in Coxsackie and behind Save-a-Lot off of Rt. 9W in Coxsackie. Click here for a map of the Preserve's location.
We often have public programs and events at this property, check our events page for information.
Greene Land Trust has partnered with Athens Sportsmen's Club to manage the Preserve for hunting. Hunting on the land is permitted during appropriate seasons only by the issuance of a permit. For information to obtain a permit, please email info@greenelandtrust.org.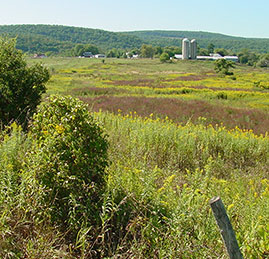 Preserve was established in 2004 through a collaborative effort.  With a goal of protecting threatened grassland birds from pending developments, a unique partnership was created among the Greene County Soil and Water Conservation District (GCSWCD), the Greene County Industrial Development Association (GCIDA) and a local Greene County Habitat Advisory Committee (which includes representation from Northern Catskill Audubon, Sierra Club, Scenic Hudson, Hudsonia, the NYS Department of Environmental Conservation, local birders and local municipalities). This diverse group of stakeholders succeeded in fostering both economic development and environmental conservation in their communities.  Through precedent-setting cooperation with developers, instead of losing habitat to development, land was permanently conserved as the Preserve, with the Greene Land Trust established to provide management and stewardship for this important grassland habitat. The establishment of the Preserve is an excellent example of how the Trust works with its partners to facilitate a balance between sound development and effective preservation.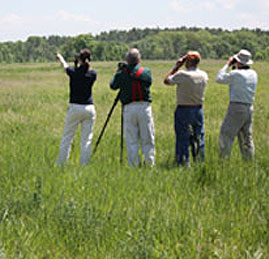 Grasslands and other Wildlife Habitat
Preserve habitats were classified using the Biodiversity Assessment Manual for the Hudson River Estuary Corridor. Habitats were classified as consisting of approximately 20% wet clay meadow, 37% upland meadow, 1% deciduous shrub swamp, 3% hardwood swamp and 38% riparian. Another partner organization, the Greene County Soil and Water Conservation District, has helped us group habitats into five general habitat types based in their similarity and management needs. These general habitats include:
Grasslands are the primary target habitat type and will require the most intensive management.
Shrub-land is the second priority target habitat and currently exists, or will be promoted, as a transitional buffer between grassland and Riparian forest buffers. Shrub land requires the second most intensive management.
Riparian forest buffer is a narrow corridor primarily along the Coxsackie Creek and the lower portions of an unnamed tributary.
Forested field buffer is a narrow wooded tree/shrub line between grassland habitat areas that will require very little management activity.
Stream and wetland habitat consists of the Coxsackie Creek, the unnamed tributaries and the emergent wetlands on the property. Wetland include natural habitat along the stream corridors as well as the constructed wetlands.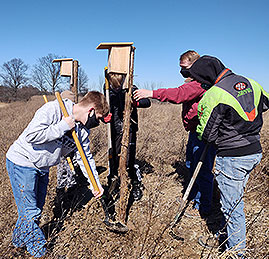 Habitat Conservation Objectives
The primary species targeted for conservation are the Northern Harrier, a hawk and the Short-eared Owl. The habitat also provides potential benefits to other grassland species such as the upland sandpiper, Henslow's sparrow, and others.
The Short-eared Owl and Northern Harrier (which are known to roost together and compete for food) are in need of conservation and preservation efforts in the proposed management area. The Short-eared Owl, by New York State guidelines, is listed as an endangered species, while the Northern Harrier is on the threatened species list.
As birds with first-order habitat needs (compared to the sandpiper) and listed as threatened and endangered, the Northern Harrier was chosen as the primary conservation species associated with the Coxsackie Creek Grassland Preserve.
As the primary habitat at the Preserve, grasslands require the highest level of active management. The management of grassland cover will be primarily focused on the periodic cutting on a three year mowing cycle.
Fields with patches of bare ground will be maintained. Bare ground will be established or maintained intermittently if necessary for certain birds that require patches of bare ground for nesting and feeding.
In addition to an efficient mowing program, habitat conservation requires the re-growth of diverse grasslands. In the older unimproved grasslands of the Preserve (those that been out of agricultural use the longest), the vegetation is dominated by Purple Loosestrife.. Approximately 30-35% of the grassland habitat in the Preserve is impacted by loosestrife, creating poor grass conditions. A Purple Loosestrife control program using biological controls (Beetles & Weevils) could improve these grasslands.
The fields most recently used for active agriculture are predominantly an alfalfa & timothy mixture that was used for hay production. Although alfalfa is a highly desirable forage crop for agricultural uses it is less appealing to most bird species. Grassland birds prefer a wide range of grass heights and densities, with some species preferring short sparse vegetation, and others preferring taller, more dense vegetation.
Due to differences in species habitat preferences, the responses of individual grassland species to specific grassland management practices can be variable. As a result, management of grassland areas is best directed toward the creation of a mosaic of grassland habitat types.
Shrub lands will be maintained primarily as a buffer along most field edges. In addition to habitat value of the shrubs themselves, they will also be maintained to act as a transition zone between the open fields and the forested riparian buffers. This will likely involve a strategy of cutting back a set length each year on a rotation of five to seven year. Tree saplings 10-15' in height will be regularly thinned out to avoid forest succession and over shading of the shrubs.
The primary goal of riparian forest buffer management is to create a continuous buffer of riparian forest buffer habitat bordering the Coxsackie Creek as well as the lower end of the unnamed tributary. This may require infilling certain areas with vegetation indicative of riparian environments (forbs, grasses, sedges, shrubs such as dogwoods and hawthorns, or trees such as red maple, slippery elm, red and green ash, sycamore, cottonwood, and hemlock).